March 2013
03/06/2013 04:09PM ● By Anonymous
MY LUCKY DAY
Published: 26-Feb-2013
Photo by Kathi Corder www.kathicorderphotography.com
As winter ends, daffodils are peeking out from dormant gardens, lifting their faces to the sun. It's the time when Mother Nature flaunts her creativity, pouring rain on us one day, then greeting us with a clear, azure sky the very next morning. Yes, we are ready to march into spring!
Nothing says "welcome to the weekend" like a freshly baked pizza on a Friday night, and some local entrepreneurs have put a twist on the traditional pie with their wood-fired pizzas. Learn how the North State has grabbed a hold of this growing trend.
Farmers' markets make it appealing to "go local" when it comes to food, but what about the other green stuff? Our community banks and credit unions care for your money locally, and their employees – from the teller to the CEO – are our friends and neighbors. We'll tell you more about them.
The North State is blessed with creative folks of all stripes, and we're delighted to introduce you to a new feature in Enjoy – quick glimpses into the lives of local authors. This month, we'll introduce you to teacher-turned-children's author Linda Boyden and adventurer Joel Stratte-McClure.
Ready to go out and explore how spring has sprung? The Camden House in Whiskeytown is a lovely local treasure, and the Burger Barn on Old Highway 99 in Dunsmuir boasts the perfect burger with a side of nostalgia. But before you go, let our local meteorologists help you pick the perfect day to venture out. Our TV weather guys brave rain, snow and scorching summers to share their scientific know-how with us, and you can meet them right here in this issue.
Whatever the weather, it's a glorious time to live, work and play in the North State... enjoy!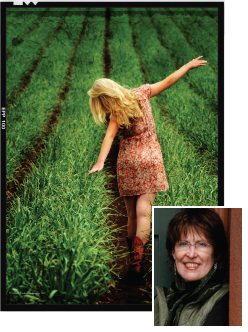 CONGRATULATIONS TO OUR 2012 COVER CONTEST WINNER, Kathi Corder: My interest in photography goes back to my childhood. I started studying to become a professional in 1991 at the age of 45. The trails of knowledge and further education through Professional Photographers of America and California led me to my Master's degree and to become one of the only Certified Professional Photographers in the North State. The image gracing your cover is of my granddaughter, a fifth generation member of our family and farm. She is skipping through the garlic fields, one of the many crops we grow to support ourselves and many others.
"Thank you Enjoy magazine and to all that voted." www.kathicorderphotography.com