A Lesson Learned - Winners and Runners Up
09/05/2013 10:55AM ● By Enjoy Magazine
Congratulations to Nate Santi, age 8, for his winning "A Lesson Learned" story and to 7th grader, Hannah Cox for her winning photo.
Congratulations to Ally Farmer, age 7, and Ava Kneale, age 7, for their 2nd and 3rd place submissions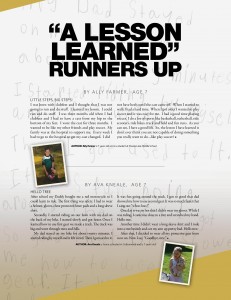 The next contest submissions need to be emailed to reddingwritersforum.com by September 15. The theme is "The Gift."