The Exchange Club of Redding's Air Show
08/25/2014 10:08AM ● By Sandie Tillery
Flights of Fancy
September 2014
By Sandie Tillery
This month, the sound of high-performance jets  will again thrill crowds during the Exchange Club of Redding's spectacular air show. Slated for September 27-28 at Redding Municipal Airport, the Canadian Forces Snowbirds demo team will play a starring role. Other attractions will include patriotic salutes, exhibition flyovers and high-performance aerobatics. On the ground, guests will enjoy a variety of vendors and exhibits, all celebrating the history of flight.   
The Exchange Club of Redding and its sponsors offer a two-day event enjoyed up close and personal by guests at the airport as well as those neighborhoods within the flight path of the high-flying performers. The air show serves the community by celebrating volunteerism and community cooperation, and it infuses the local economy with tourism dollars.
Working closely with representatives from Redding Municipal Airport, fire, police and public works departments, the Exchange Club and volunteers have earned Redding City Manager Kurt Starman's respect. "They do a fantastic job," he says. He also lauds the event for its boost to tourism and the local economy, as well as the partnership with so many non-profit organizations that help others.    
North State residents and visitors have enjoyed the jet demonstration teams for 19 of the past 21 Redding Air Shows. This is a record unmatched among civilian air shows the size of Redding's around the country, says Bill Wagner, 2014 air show chairman. According to Wagner and David McGeorge, a former air show chairman and active Exchange Club member and volunteer, Redding has succeeded in attracting the jet teams because of the open-arms hospitality the community provides. The pilots and their teams often enjoy their off time recreating on local lakes and rivers. Says McGeorge, "They love to come to Redding."   
With a variety of "giving back" activities filling its annual calendar, the Exchange Club of Redding's only fundraising event is the nationally recognized air show. Over the years, it has developed a finely tuned operation, reports Wagner. An average of 28,000 to 30,000 visitors pass through the gates during the two days. It takes up to 1,000 volunteers from a wide range of nonprofit organizations, many sponsors and support from local government officials to make the air show such a resounding success. Every nonprofit organization that contributes time and services also shares in the proceeds from the event. According to Wagner, more than $1 million has been distributed back into the community since the first air show in 1982.   
Among the philanthropic groups that cooperate with the Exchange Club to provide equipment and volunteers to feed and fete the community are the Asphalt Cowboys and Sons of Italy. This month, the Exchange Club of Redding and all its contributing  partners will work to feed and wow the crowds again with a show to remember.
The Beechcraft T-348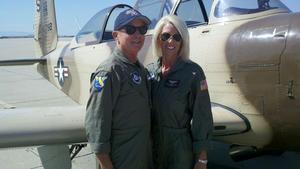 A real life mechanical hero will be on display at his year's Redding Air Show. The Beechcraft T-348, registration number N157 Zulu, was transferred from its original service as a military pilot training aircraft beginning in the 1950s to U.S. Forest Service duty. It served as the lead Forest Service plane stationed at Redding Municipal Airport from 1960-1975. It then was moved to March Air Force Base in Southern California, where is has been used for a variety of purposes.   
Steve Frost grew up with flying in his blood. His father, U.S. Forest Service pilot William Frost, took him for his first flight in a Forest Service plane when he was just 8 years old. Steve retired in 2010 from a career as a fire captain with Cal Fire in San Diego. He then trained in high performance and complex aircraft at March Air Force Reserve Base just so he could one day fly a plane like his dad flew, the Beechcraft T-348. To his surprise, he actually trained in the very same plane that his father had flown from its base in Redding.     
Now a Redding resident again with a nostalgic attachment to one particular plane that he considers "a truly exceptional aircraft with a heroic past," Frost has arranged to fly the Beechcraft from Southern California to Redding just in time for the Redding Air Show. It will be on static display with its long and honorable pictorial history.    
Among its notable service duties, the Beechcraft has been used to make tribute flights for funerals and memorial services for fallen soldiers. Frost describes the plane as "a truly unique aircraft that has had a service of distinction to our nation, not only as a military training aircraft for hundreds of military pilots, but also as a 15-year Forest Service  lead plane fighting forest fires in Northern California."   
Like a hero returning home, the 157Z will be on loan during the Redding Air Show. Frost has undertaken the project of returning the aircraft to its old home with the help of local supporters.
Long-Time Redding Air Show Sponsors Al and Pat Naticchioni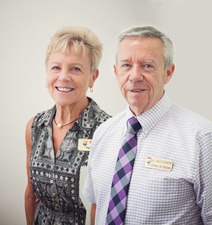 The Redding Air show touts many loyal and long-time sponsors. North State super fans Al and Pat Naticchioni are among them. Ever since they moved to Redding in the mid-1970s, they have been making professional and personal connections that have propelled them into giving back to individuals in need and worthy causes and organizations.    
Together, they have enjoyed building a construction business, and in 1991 launched their real estate business, RE/MAX of Redding. During their long career, they have found many opportunities to give back to the community to which these world travelers love to return home. The air show offers them a perfect opportunity to support their favorite causes while showing their appreciation to others in the community.   
Al spent four years in the U.S. Coast Guard, serving both on the east and west coasts in search and rescue aviation. It is no surprise that he passionately honors others who serve and have served in the military, especially those with distinction. The Military Order of the Purple Heart has honored Al for his contributions. The Naticchionis have also supported and honored local law enforcement. They both love to donate to causes that promote the North State.   
The couple work tirelessly to plan for the Redding Air Show. They sponsor two pavilions on the front line where they host and feed as many as 600 guests all day long on both days of the event. It is a way, they say, to thank coworkers, clients, friends and members of their favorite charities.    
They never rest on their past success. At age 68, Al became the first to enroll in Realtor University's inaugural class. He is working to earn his master's degree in real estate. Even during the recession they found ways to use their business expertise to help struggling homeowners. They helped many families during the five-year market crisis as Certified Depressed Property Experts. They say working with people is their life.
Exchange Club of Redding Air ShowSeptember 27-28Gates open at 8 am and close at 5 pmOpening ceremonies begin around 11:30 amRedding Municipal AirportFind more information and buy tickets at
www.reddingairshow.org
or call (530) 225-8200